The basis for the study was formed by a survey of banks that was conducted in November 2022, as well as interviews with representatives of banks, FinTechs, IT specialists, and providers of core banking solutions. Afterwards, a workshop with 30 experts was held in February 2023 for a detailed discussion of selected topics. Finally, the findings from specialist literature were also included in the investigation.

Future events may very well deviate from the path ahead as described in this study, and it is also possible that further adjustments will arise in the course of time. However, many banks that want to seize the opportunities of digitalization already consider it necessary to initiate their first steps into the future. The study shall serve as a rough guideline in this endeavor.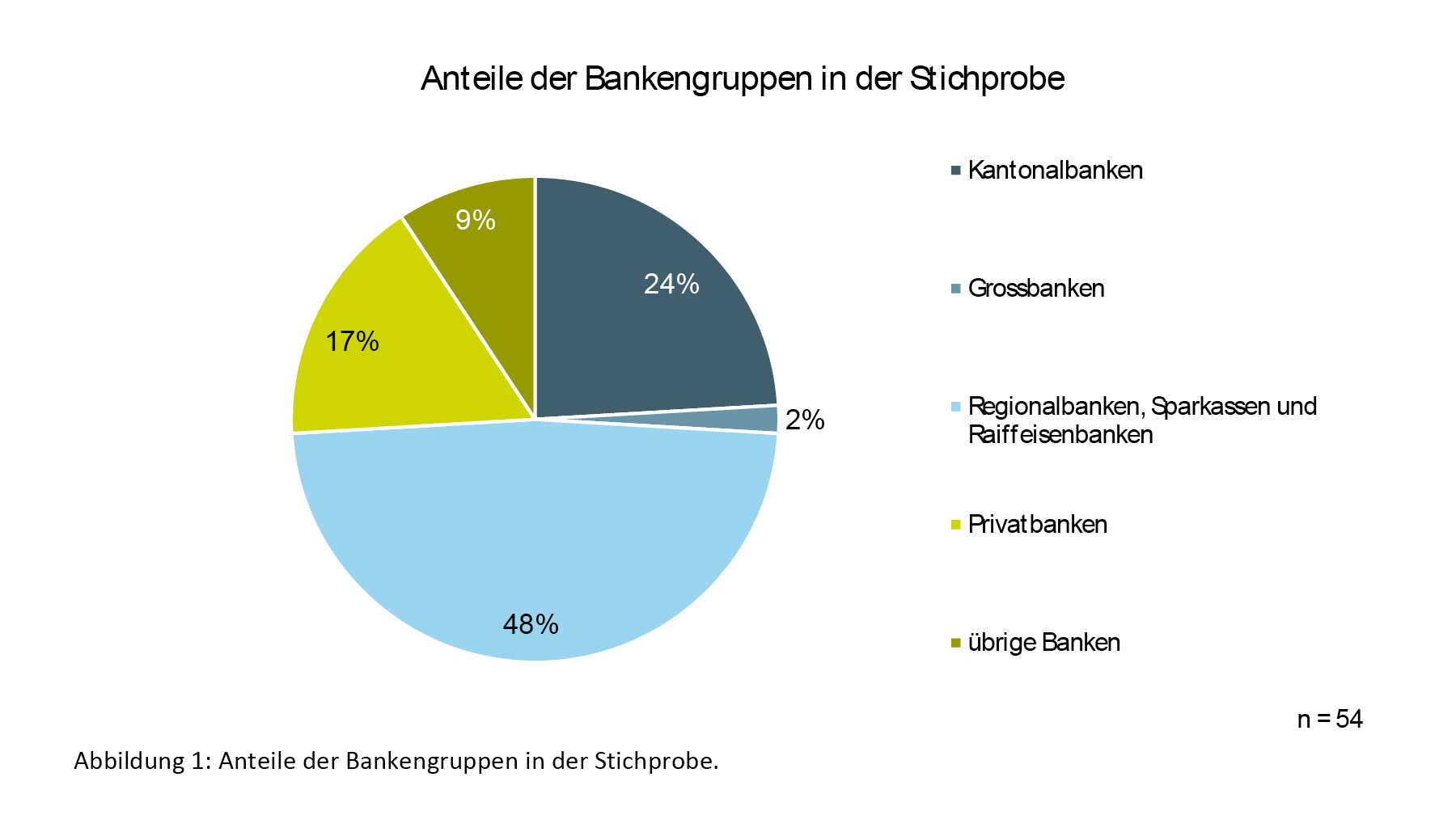 Core banking systems will play a central role in the future. This has become evident in the first market investigation of core banking systems for Swiss retail banks. Considering the ongoing changes in the areas of finance and ICT, one cannot avoid the question of what technological support for banks should look like to secure continued success in their business activities.
A core banking system is used to manage and/or process customer master data, contracts, positioning, and transactions.
This already establishes a first conclusion: While the term «core banking system» used to be understood rather broadly as including nearly all functions of a bank, it is nowadays more narrowly defined. This means that according to current understanding, a core banking system is the main business information of a bank.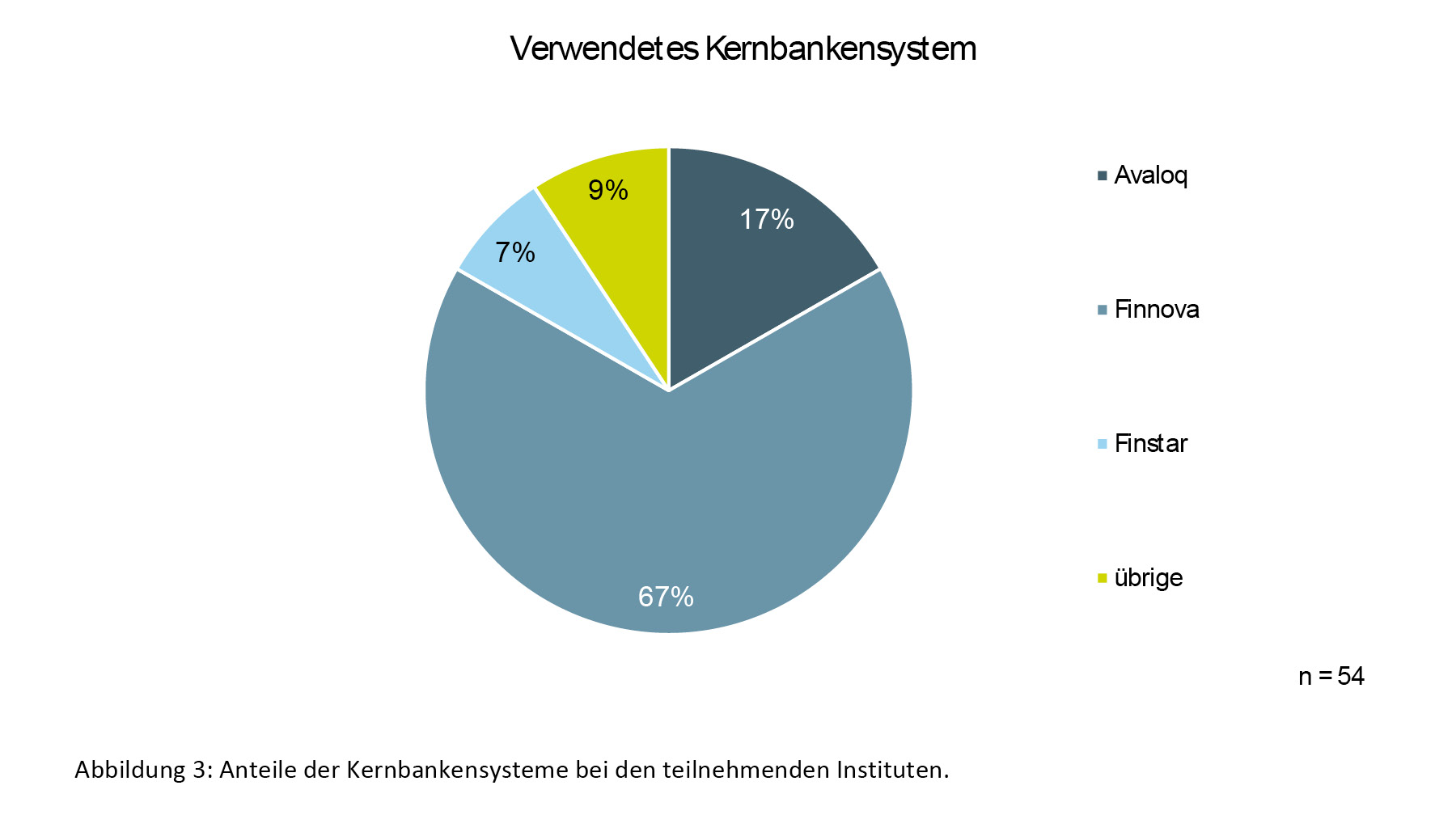 Objectives and methodical approach
The present study on the one hand presents the current expectations of banks regarding future systems. On the other, it also sheds light on the development directions and ambitions of existing and new system providers, so the readers can gain some insights into the future of this IT field that is so important to banks.
The study essentially pursues the following objectives:
Highlighting the future needs of banks and their requirements for new solution approaches

Determining the time horizon and the preconditions under which banks will implement a change, as well as an assessment of potential market developments

Presenting the planned developments regarding existing core banking solutions

Illustrating potential paths into the future by means of alternative solution examples

Providing an estimate of potential developments in the area of core banking systems by the authors
Prioritization of requirement criteria for a core banking system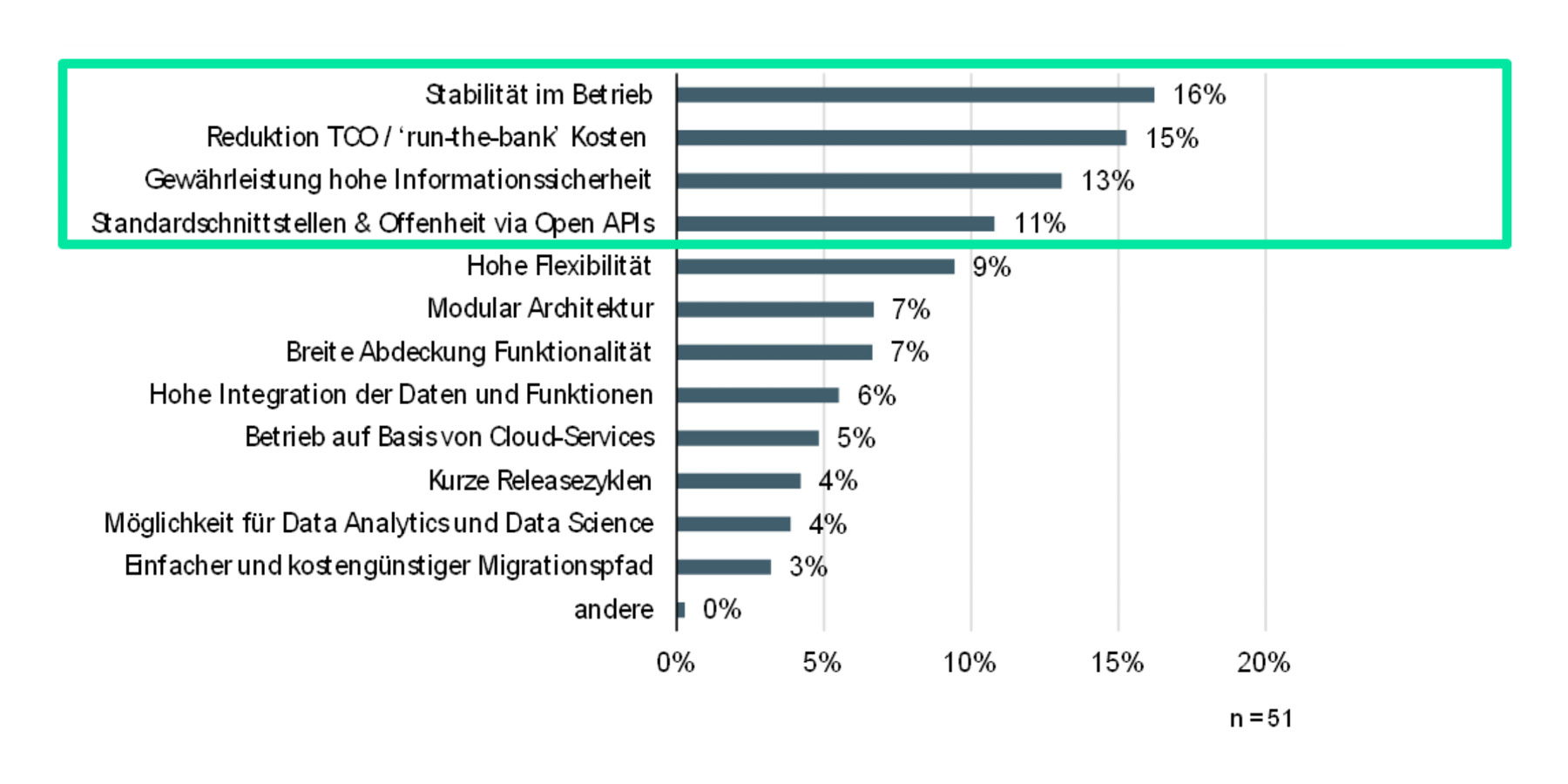 Apart from the current requirements, such as operational stability, the study also investigated what the most important requirements of banks will be in three to five years, and which of these a core banking system must be able to cover.

In first place, with 87% of the surveyed financial institutions (47 banks), are standard interfaces (APIs) for integrating solutions of third-party providers and for connecting to existing ecosystems.

Merely 4% of financial institutions are considering a change in the next three years (two banks). Three banks (6%) can imagine taking this step in the next three to five years. In other words, about 10% of banks can imagine making the change as «early movers» within the next five years. However, the interesting fact is that about one quarter (26%) of the banks think they will change in five to seven years, while one third (32%) considers a time frame of seven to ten years to be probable.
Preconditions for changing the core banking system
Probability of changing the core banking system