Digitalization has opened a world of possibilities for providers of financial services to improve their offering, optimize processes, and strengthen customer bonds. But which of these new options is the most promising? One approach in particular stands out: the ecosystem, a concept that appears tailor-made for the multifaceted field of financial services.
What is an ecosystem?
In an ecosystem, different actors, e.g., companies, share an infrastructure in which jointly defined rules apply. This infrastructure provides multiple options for participants. It also makes sure that their data and workflows are ideally coordinated. The ultimate goal is for the participants to create added value for customers.
Why are ecosystems key for financial service providers?
In the financial products and services industry, a paradigm shift is taking place: from a banking-centered to a customer-centered structure. It is gaining momentum as customers increasingly source their products from different suppliers.
Therefore, financial service providers today are striving to better meet the needs of their customers and deliver innovative solutions. In addition to quality and stability, the creation of ecosystems – and thus the opening up of banking – has proven to be a promising way to achieve this goal. The step towards «open banking» is a key development, because if banks resist opening up, it will sooner or later be enforced by the government.
However, there are different types of ecosystems. In many cases, the motto «For us, the customer is at the center and therefore in the way» seems to apply. What else if not the current paradigm shift should prompt financial service providers to rethink the motto and direct their attention to the customer without any ifs, ands, or buts?
What are the types of ecosystems?
An ecosystem can either be managed and controlled by a single player or it can be a platform where different players offer their services on a specific topic («verticals»). In both cases, there are benefits and downsides; and neither offers the best possible customer experience.
What is the biggest weakness of existing ecosystems?
Today's ecosystems often suffer from overlap and are not customer-centric enough. Customers are therefore forced to move back and forth between different providers and manage their own personal ecosystem. As a result, they lack a holistic view, which causes frustration. It makes no difference how hard the provider, also known as the orchestrator, tries. It is all about the customer's needs.
How to reach customers through an ecosystem
As the name suggests, a customer-centric ecosystem puts the customer at the center, anticipating their individual needs and preferences. It allows the customer to actively create their own personalized ecosystem. The customer selects the apps and services that best meet their requirements and thus offer them the greatest added value depending on the situation. One example of a customer-centric ecosystem is Apple's iOS platform (app store), which offers applications in banking, mobility, health, entertainment, and more. By integrating the different topics on one screen, it creates added value for customers and follows the path of digital transformation.
What is a possible solution for financial service providers?
One promising approach for a customer-centric ecosystem is the «Banking+» app. It combines various services and functions to offer customers a comprehensive and seamless experience. With this all-in-one application, they have the option to use exactly those offers that meet their individual needs.
For example, thanks to the integration of various banking service providers and FinTechs (open banking, multi-banking), customers can conveniently access several accounts, make payments, and obtain banking services in the «Banking+» app.
Additional information such as insurance policies, pension situation, travel data, and e-commerce orders can also be integrated into the «Banking+» app, giving customers a full overview of their financial situation at all times. This is possible thanks to new developments such as open banking and OpenPK (pension fund).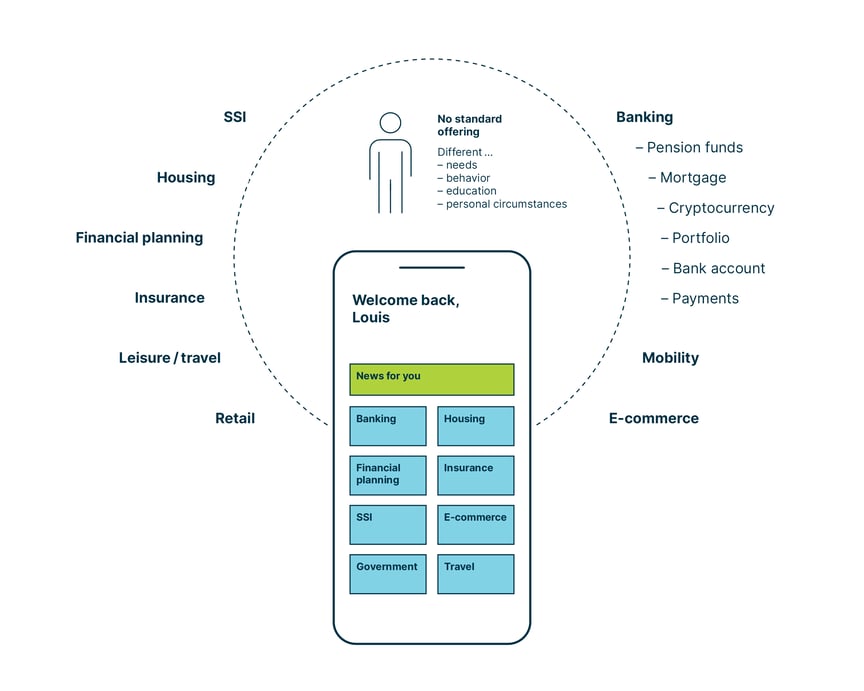 Conclusion
Customer-centric ecosystems are «the way to go» for financial service providers. They should make sure to provide customers the something extra, i.e., features in the app with which they differentiate themselves from their competitors. Plus, they should leverage the opportunities of open and multi-banking, integrate a FinTech or two, or participate in the increasing number of ecosystems and cooperations in and outside the financial industry. Customers will appreciate it – and remain loyal.