AI and Machine Learning technologies will be disruptive for many industries including healthcare, insurance, and retail. According to the Fortune Business Insights (2022), the worldwide machine learning market is anticipated to expand from USD 21.17 billion in 2022 to USD 209.91 billion by 2029
In this article, we will look at how machine learning impacts businesses, providing more ideas on planning and implementing a ML project which can influence your business positively.
Incorporating AI and Machine learning to transform business operations
Every critical decision making in organizations should rely on a data-driven process and high-quality data. To facilitate these decision-making processes, organizations would typically need to collect a large amount of data distributed across various business functions such as sales data, warehouse and inventory data, website traffic statistics, etc., or even from external resources. Analyzing such amounts of data in structured and unstructured, is hard for humans or even simple computers, necessitating the use of artificial intelligence (AI) and machine learning (ML). AI and ML can boost the efficiency of the process as they can learn continuously and generate outputs with less time and efforts, allowing organizations to realize a variety of objectives to improve their business outcomes.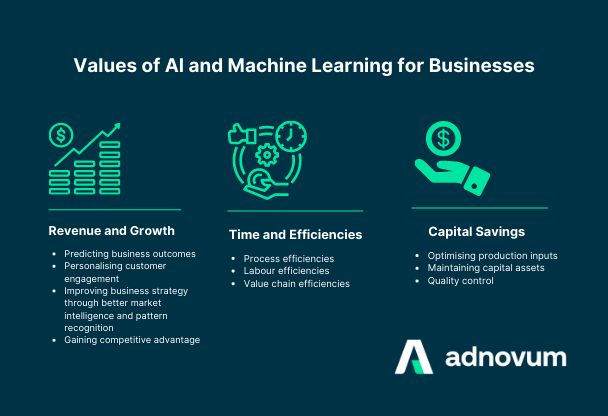 According to a new study from the Accenture Institute (2021), "AI" might double yearly economic growth rates in several wealthy nations by 2035. With broad AI deployment, the yearly growth rate in the USA increased from 2.6% to 4.6%, resulting in an extra $8.3tn. Without machine learning applications, organizations cannot perform as well as their competitors having adopted this technology wisely or handle important but tricky tasks efficiently that might be overwhelming even to their smartest personnel.
One of the most prevalent use cases of machine learning is constantly improving existing processes and products. Machine learning models can analyze and refine processes or products based on the data organizations obtains. These findings and optimizations ultimately can help businesses save energy, time, and resources, as well as minimize costs.
Another use case from machine learning solutions that can help to significantly drive business performance is customer experience improvement. Prosper Insights & Analytics data also shows that over 50% of US Adults agreed that website ease of use is very important when shopping online. Machine learning applications can augment your digital services' capability in providing personalized experiences or data-driven recommendations to improve service quality. Beside ML impacts on sale-marketing results, the applications of machine learning can be visible in other areas of business, such as recruitment with automation for reviewing resumes, arranging interviews, and trailing applications, customer supports which help to swiftly route conversations to the appropriate personnel, recommend solutions to service teams in response to customers and so on.
How AI and Machine Learning can strengthen cybersecurity postures
When it comes to detecting vulnerabilities in computer network defenses, AI and machine learning become a very helpful tool. By watching trends in data intake, AI and ML can detect cyberattacks and other cyberthreats by defining the patterns from data and help to prevent you from potential attacks. That capability of AI as being meticulous and consistent will be a huge help in safeguarding your infrastructure in real-time. Given the volume of data flowing from logs, identity and access management systems, threat intelligence feeds, and a variety of other sources, this action is beyond the reach of manual human efforts.
AI and ML are effective in monitoring threats and taking defense actions as they can be trained to ideally recognize various cyberattack patterns and automatedly response with the same reaction mechanism. Three ways how machine learning in cybersecurity works effectively:
Detecting anomalies: AI and ML employ behavioral analysis and constantly developing parameters to detect abnormalities that might indicate an attack.
Predicting data breaches: AI and ML prevent you from possible cyberattacks in future by enabling the processing of vast volumes of data of various types for predictive analysis.
Responding to data breaches in real-time: When a threat is recognized, AI and ML will immediately issue alerts or respond autonomously without human interaction by automatically building protective patches.
Getting started to implement machine learning for your business
AI and machine learning solutions can be a key driver to enhance your business growth by incorporating efficiency and security in your existing process and products.
ML projects should be initiated by gaining a thorough understanding of the business first, then determine which internal enterprise activities can be automated using ML. Data is the fuel for any ML projects, you should ensure data acquired with both high quality and sufficient volume prior any projects. Various sources where organizations can obtain the data from internal come from sales data, social media, etc., to external. Besides the need of data available for a ML project, organizations should also invest in other key areas such as recruiting talents for ML team, to manage efficiently their ML systems and third-party vendors who can ideally offer customized solutions for your business requirements.
Adnovum empowers businesses to develop successful machine learning solutions, from assessing your business requirements and ideation to turning them into a functional ML application. Contact us to discuss more to adopt the best suited machine learning solution for your business.
Register for a complimentary consultation of Machine Learning solutions
Learn more