About five years ago, the first multinationals in Switzerland began to use conversational AI. The chatbots were only accessible while the website was open and thus of limited value. No wonder: Similar to an app, they were implemented once and supposed to persist unchanged.
Soon it became clear that specific knowledge and trained personnel were needed for the design and training of conversational AI solutions. The profiles have meanwhile been created, but the training of the bots still has potential. Until today, it is usually not automated, but done manually on the basis of Excel files or even by change request to the IT department.
The next level: the enterprise conversational AI platform
While the multiple communication channels from website to voice to Whatsapp are well integrated at many companies, bot content is often not managed centrally. An enterprise conversational AI platform enables companies to systematically build bots, train them regularly, and display relevant information to contact center employees in live chats and calls. The platform consists of the following main components: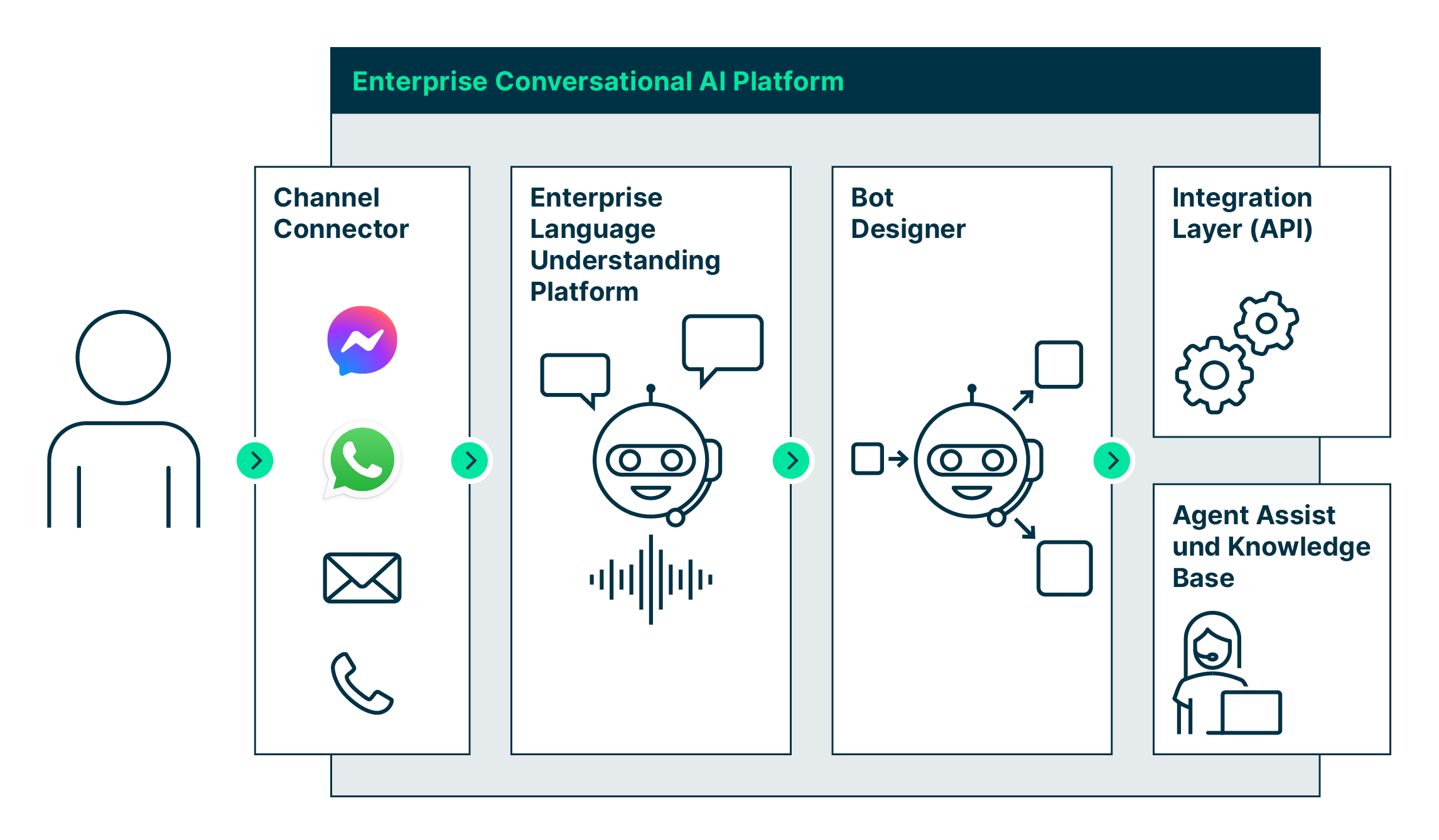 Channel connector: From e-mail to website chat to messenger apps: A good enterprise conversational AI platform integrates all channels, including voice. The more comprehensive the integration, the more harmonized the processes are for the customer.
Enterprise language understanding platform: The heart of automation through AI is the enterprise language understanding platform. It analyzes customer requests textually and translates them into an intent. This allows the bot to give the customer a proper answer or to trigger the desired action. Ease of use for experts is the key here.
Bot designer: It should be possible to create and edit also bots via drag-and-drop. After all, they can only improve continuously if they are regularly nurtured by experts.
Agent assist and knowledge database: If an agent takes over a live chat from the bot, relevant sections or process flows from a knowledge database quickly give them an overview. Agent assist provides predefined answers that can be fed directly back to the customer. The bot is thus further trained, the agents are relieved of typing and the process flow is standardized.
Integration layer: The consistent integration of peripheral systems makes it possible, for example, to request the card number and authentication straight away when asked how to block a credit card instead of referring to a help page with ten steps. This turns the bot into a virtual assistant for the customer.
Focusing on customer value and ease of use
The success of conversational AI depends on the value for the customer. The platform must enable contact center experts to easily adapt flows and quickly correct misidentified customer questions. As a result, the degree of automation increases continuously by a few percentage points. It is therefore worth taking a closer look at the usability of the platform during the evaluation with the support of conversational AI experts.
This article was published in Netzwoche on October 12, 2022 (in German)