The Singpass application has been widely used by 97% of Singapore citizens and Permanent Residents aged 15 and above. This has translated into more than 350 million personal and corporate transactions supported by Singpass each year (Smart Nation, 2022). The application continues to improve to-date as the Singapore Government Technology Agency strives to ensure Singpass features provide a seamless experience with strong security.

At the same time, businesses can leverage Singpass' features to improve their customer experiences and security, which in turn improve customer satisfaction and business outcomes. In fact, 49% of consumers have left a brand in the past year due to poor customer experience (Emplifi, 2022) 1. Here are three ways that Singpass integration can enable firms to meet their customers' expectations for convenience, speed and security across their digital services.
1. Providing the Customers with Greater Accessibility and Convenience
The baseline for convenience and ease of use is greater than ever, especially when it comes to consumers making decisions about their daily routines and purchases. It is highly important to provide services that are not just accessible, but also simple to understand and utilize.
One possible way leading to an unpleasant customer experience and maybe lose business opportunities is to require them to continuously enter their information to access the services. With Myinfo, organizations' users can swiftly provision their Myinfo profile for their service registration with just a few taps of the finger. Banks in Singapore, for instance, can now use Myinfo to enable customers to pre-fill their credit card/loan application forms with government-verified personal data and also provide real-time approvals if they meet the relevant loan conditions.
Implementing all-inclusive features for users, even at the edge, can be accountable for improved customer satisfaction and business outcomes. Several Singpass authentication techniques, such as Identiface, have been made available to make the digital services more accessible in a wide range of situations. Specifically, with the Identiface feature, overseas Singaporeans who may not have a locally registered number can immediately get access to the services without inputting OTPs via SMS or waiting for a physical PIN mailer.
2. Speeding up Delivery Time with High-Quality Data
An essential criterion for assessing the quality of an organizations's customer service is the speed with which they respond to inquiries. A quick response rate may increase customer satisfaction and stand out from their competitors.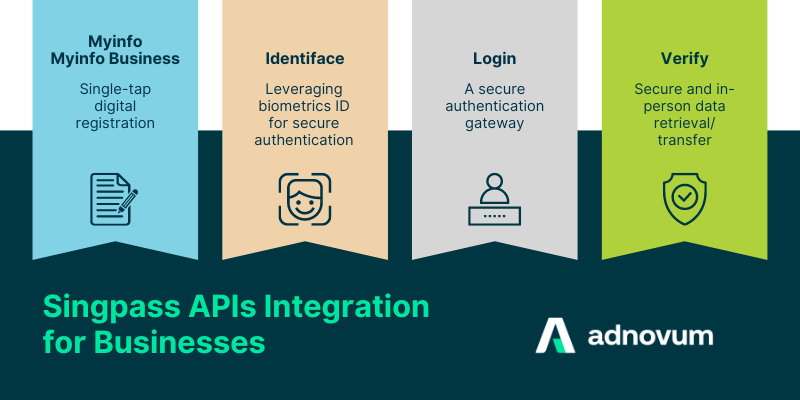 Singpass APIs could facilitate businesses to enhance their productivity and speed up their service delivery time. After integrating Myinfo with their digital services, those firms surveyed have managed to reduce application time for their users by up to 80% and increase their approval rate by up to 15% due to high data quality (Smart Nation, 2022)2. Here are the additional Singpass APIs that can help deliver services more quickly and guarantee a seamless user experience.
• Login serves firms and users as a secure authentication gateway. Customers can use Login to access services' applications quickly and conveniently without having to remember their credentials, while data security is ensured.
• Verify is an ideal API for the face-to-face registration process. Customers can complete their task and achieve their goals quickly with a smooth and easy registration process. Verify will simplify this process by only requiring users to quickly scan a QR code or tap on the NFC device to be authorized and to transfer the data to the relying party securely and accurately.
3. Building Digital Trust for Users
Customers in the modern day want more transparency and sovereignty over their data, particularly in light of the constant stream of technological advancements. There will be potential damages to a business if it fails to take specific actions to protect customer privacy. According to a survey provided by Deloitte (2022), including a strong security foundation in firms' operational areas can contribute to a significant rise in their customer trust levels3. How do firms earn and build trust when it comes to the personal data that customers share with them through Singpass?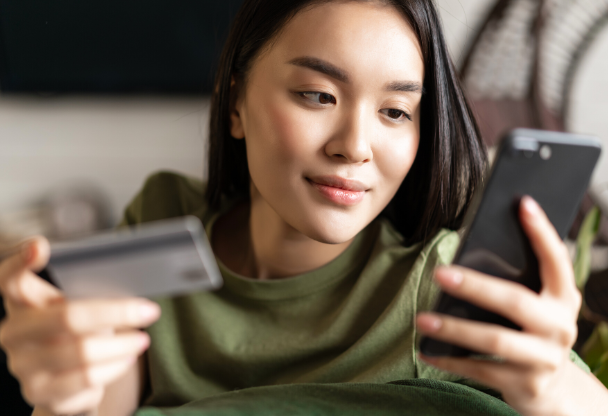 Businesses may earn customers' trust in the digital realm by meeting their expectations for transparency, privacy, security, reliability, and data ethics in their services. With Myinfo integration, users may see what kind of information is being extracted from their Myinfo profiles before giving their consent. Moreover, the user will receive and record a notification that the data has been drawn transparently.
Two-factor authentication (2FA) is another security feature offered by Singpass. With 2FA set up on the firms' applications, customers may feel safe enough using their digital platform to complete online transactions. In this regard, Singpass 2FA will add an additional layer of security to protect user identity. The Singapore government has also enhanced this feature with more convenient and accessible options, including Facial Verification and Multi-User SMS 2FA. Therefore, this security feature will not put the customer experience at risk but will streamline service access in a secure manner.
Single-Signed On (SSO) from Singpass can also bolster organizations' security postures. With SSO implementation for their secure transactions, organizations can leverage the strong security system from the Singapore government to manage their customers' personal data without storing it.
Singpass integration empowers digital businesses with three critical capabilities: greater efficiency and convenience, optimized delivery time, and a solid security foundation. Therefore, for any businesses targeting the Singapore market, incorporating Singpass with their services will foster customer relationships through satisfying, positive and trustworthy experiences. This will pay off for these digital businesses with more opportunities for sustainability and success.

The latest Singpass features can be powerful contributors to your organizations' overall digital efforts to deliver a great customer experience. Adnovum's Secpass solution makes Singpass integration cost-efficient and scalable, integrating Singpass with your digital services in as fast as 2 weeks. Register for a complimentary consultation with our team today.

References:
1. Emplifi. (2022). Report: 11 key things consumers expect from their brand experiences today.
2. Smart Nation. (2022). Singpass Singapore's National Digital Identity (Factsheet).
3. Deloitte. (2022). How enterprise capabilities influence customer trust and behavior.