The professional jury of the Zynternship Awards1) has presented Adnovum Budapest's Software Engineering Internship Program with a silver award in the Talent Starter category. In this competition, the most complex and best built internship and graduation programs are honored.
Adnovum Budapest's 3.5-month program consists of two parts: The first part allows the interns to work with a dedicated mentor on an internally developed software project. In the second part, they are able to gain knowledge of how a real client project works as a member of an international team.
Throughout the internal and the client project, the interns can count on the help and attention of mentors on both a professional and personal level, including regular feedback. In addition, the interns can attend our technical trainings and workshops that introduce them to the world of the most commonly used web technologies (e.g. Spring, Angular). We also fund online courses for them.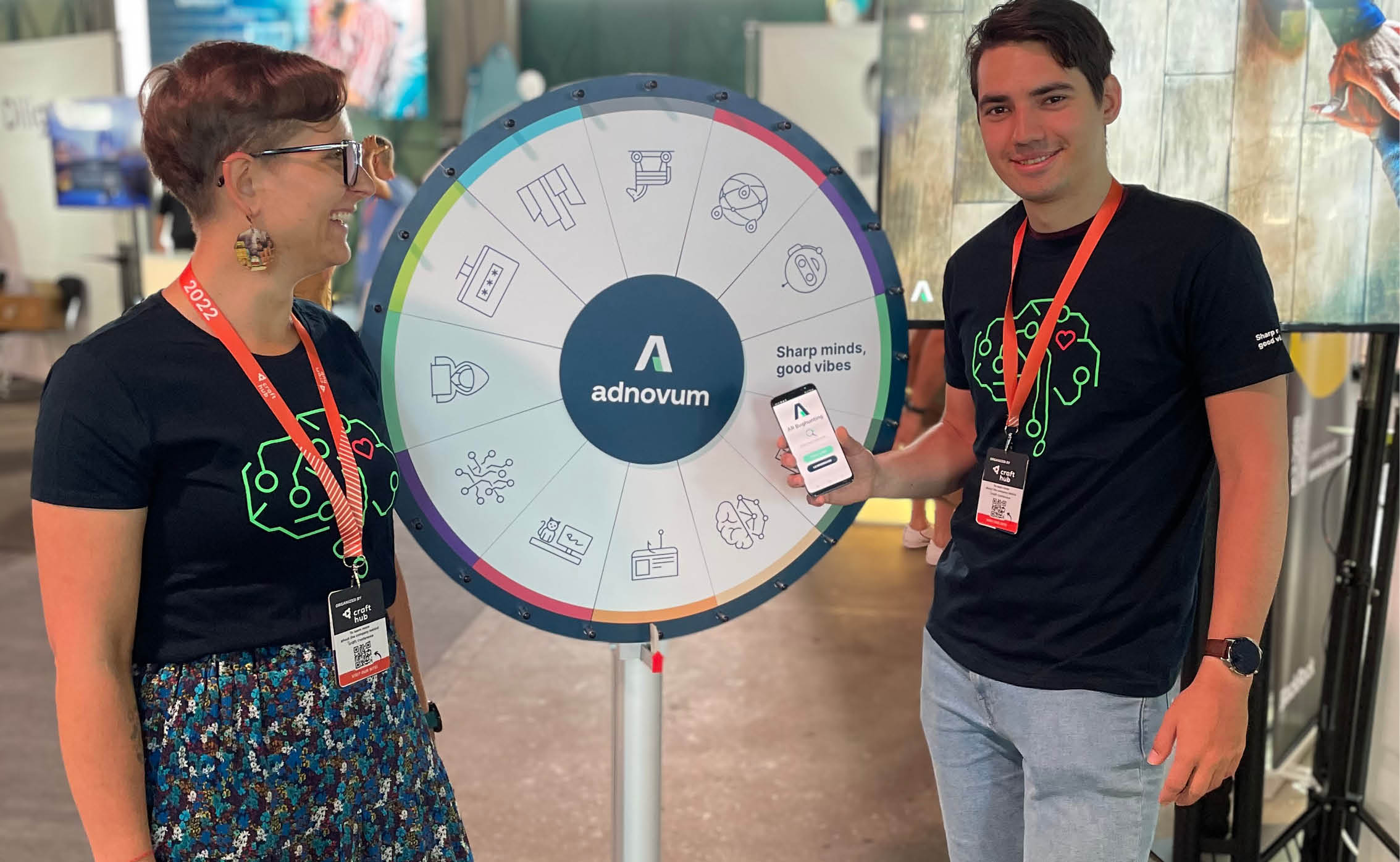 Hear from intern Szabi and mentor Brigi why the program is a success
Meet Szabi and Brigi, the duo who developed our bug hunting game for the Craft Conference 2022!
Szabi, our software engineer intern, is currently studying Software Engineering MSc at the Budapest University of Technology and Economics (BME). He was looking for an entry level job where no particular experience and/or knowledge of frameworks was required and where he would have a chance to get familiar with these frameworks. Also mentoring was a very important criterion for him. It turned out that Adnovum had an internship program that exactly met his needs.
How would Szabi describe his internship experience at Adnovum?
«It's a very good learning environment with tons of support and plenty of chances to gain hands-on experience, always being backed by professional and open-minded colleagues.»
His first project was an AR bug hunting game for the Craft Conference 2022, which rather was a mobile application with AR features.
«The best thing about the project was that I could express and materialize my own ideas instead of just coding up to specification. The best thing ever: I got to see my creation in action at the conference and also the live reaction of the participants. Thanks to this, I received useful tips how to improve, which I'm really grateful for.»
One of the most important things during an internship program is that the company should provide everything for the interns to learn about new techniques and help them build up their knowledge.
What does Szabi think in which area(s) he improved the most during the program?
«To put it short: I learned the professional way of software development. Of course, I knew of the techniques and methods, but never had a chance to experience them before (e.g. Jira). I also learned that it's better to ask for help than to be stuck on a problem, because everyone is eager to help a college in need. My main improvements include my communication skills, basic interaction as a developer, sharing ideas, raising concerns, as well as time management and planning my days ahead.»
Another key aspect of our internship program is the dedicated mentor supporting the intern throughout the whole process. Brigi, one of our software engineers, seized the opportunity and assumed the role of a mentor for the first time.
How would Brigi describe her experience as a mentor and the co-operation with Szabi on the project?
«When Szabolcs joined the company, his individual program was ready. However, during our work together it became more and more flexible, i.e. we added more features and we took care of the UI as well. I really enjoyed that Szabolcs started to share his ideas, which he later implemented in the application. We became quite agile. The application went live on the Craft Conference, where a lot of people tried the game and loved it. Szabolcs really did a great job!»

Szabi's and Brigi's experience perfectly reflects Adnovum's culture. As a great team, we empower each other to share, grow and succeed together. The unique Adnovum spirit across all locations stands for helping each other at any time, having an open door and contributing to a trust-filled atmosphere. These are the values we live up to – in general and in particular through our software engineering internship program.
1) The Zynternship Awards are the loudest and trendiest employer brand competition of the year. The most progressive companies in Hungary are participating to show they are working to create better jobs for candidates.