Businesses today operate in an environment where customer journeys can be fostered with the use of digital technologies, providing customers with a fast, convenient, and frictionless digital experience. Such technological initiatives should also ensure strong security for digital user service access. Without considering cybersecurity, organizations may become vulnerable to cyberattacks resulting in data breaches, reputation loss, and non-compliance. Therefore, the right solution for today's digital world should help organizations strike the right balance between security and user experience.
In Singapore, the government has developed the Singpass application to facilitate both its users and digital businesses in having a safe environment for online transactions. Since its release in 2003, this application has had massive success in Singapore, where almost everyone over the age of 15 uses it regularly. Thanks to Singpass, online transactions have become faster and more convenient. Notably, personal data for online transactions can now be managed and protected rigorously by the Singapore government.
Organizations should turn to a suite of Singpass APIs to further enhance their long-established business processes and digital customer experience. With Singpass integration, the acceleration of digitalization for customer interaction, business transactions, and internal operations without compromising data security can now be made efficient.
Simplifying User Digital Access with High Security
Singpass Login provides businesses with a secure and easy-to-use authentication tool for user access to their digital services. By using the Singpass app, customers can quickly go through the steps needed to sign up for the service portals. Integrating with Singass Login, digital businesses can provide their customers with more streamlined access across all of their service applications, reducing the negative impact on the customer conversion process.
Singpass also provides various user-friendly authentication methods suitable for numerous usage context, allowing organizations to further enhance accessibility for their digital services. For instance, the Identiface feature in Singpass eliminates the necessity of using physical documents to achieve specific tasks in the verification process. By enabling Singpass Login, businesses can also get access to the 4.5 million Singpass users, supporting business growth (Smart Nation, 2022)1.
The high security level of Singpass Login also makes it ideal for online registration. Singpass Login API uses OpenID Connect (OIDC) as its authentication framework, which supports end-to-end encryption between the Singpass Login API server and the relying party server. Moreover, OIDC offers a method of doing signature signing and token encryption to strengthen its security and integrity.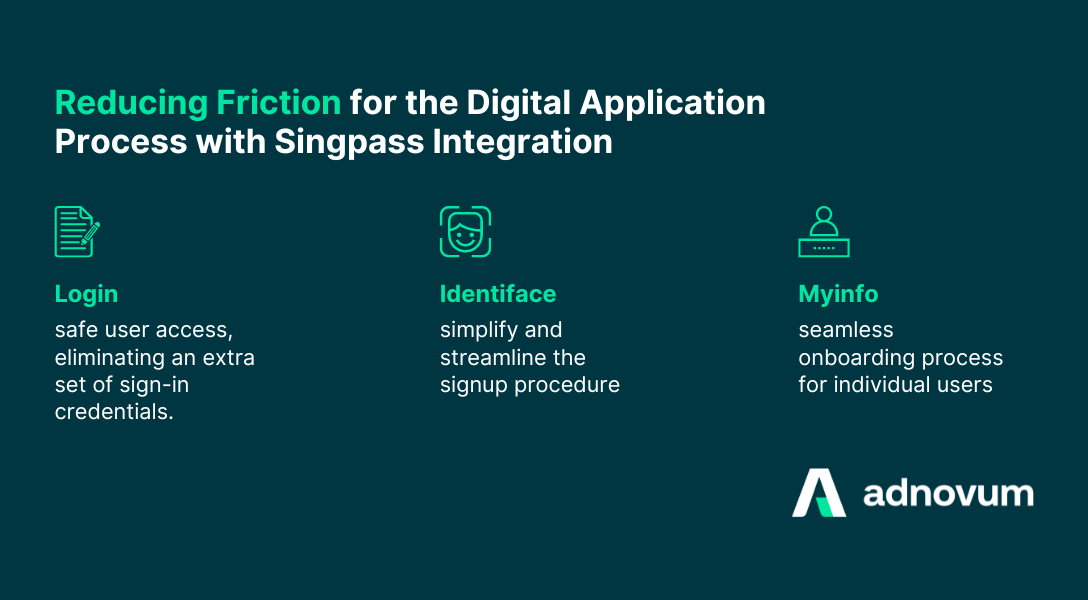 Streamlined Onboarding Process and Customer Journey
An efficient customer onboarding process will not only help organizations save time and money, and reduce stress, but it will also make their customers happier. Particularly in the early stages of the customer journey, when it's important to make a good first impression, a well-tested and simple process will give businesses a professional edge.
Myinfo from Singpass allows businesses to quickly obtain information from individuals upon consent and proceed with onboarding processes using data from government sources. Users' personal information, such as their name, ID number, and date of birth, can be automatically filled in on their application forms after users have logged in via their Singpass accounts.
Myinfo can thus help eliminate the tedious and repetitive process of filling out forms with instant data retrieval and high-quality data assurance. Moreover, with Singpass acting as a reliable authentication gateway, transactions supported by Myinfo services can be assured of high security.
Secure Digital Transactions with Singpass 2FA and Single Sign-On
When it comes to the safety of users' online identities, Singpass never skimps on the security measures it employs. Setting up Singpass Two-Factor Authentication (2FA) may assist in increasing security by diverting cybercriminals from their attempts to get into a user's account.
For accessibility to be maintained, users may choose from the four types of two-factor authentication that assist them in logging into Singpass applications easily and securely: Singpass Mobile, SMS-OTP, Face Verification, and Multi-User SMS 2FA. For instance, using Identiface, users may rapidly scan their faces for authentication in order to get access to the service without having to carry along their mobile phone.
The passwordless authentication methods from Singpass can also help businesses avoid security breaches by reducing the risks of poor password choices and management, privacy concerns, and user frustration over forgotten passwords.
Organizations can also set up Singpass Single Sign-On (SSO) to enable user access to a variety of online resources with only one set of credentials, thus ensuring smooth user access to digital businesses. By integrating Singpass SSO, businesses can also take advantage of Singpass' robust security infrastructure to better manage and protect their users' sensitive information. Hence, organizations may increase conversion rates while reducing the likelihood of data breaches with seamless service access and security from Singpass SSO.
Accessibility and convenience levels in service access can directly influence the customer's digital experience. As digital businesses are facilitated by Singpass features, customer touchpoints can now be improved by eliminating roadblocks and streamlining service access. Importantly, both businesses and users can rest assured of a strong security foundation for their transactions under the protection of the Singapore government. Adnovum's Secpass solution can help organizations integrate Singpass in a cost-effective and scalable way, with quick deployment in as fast as 2 weeks.
📩 Subscribe to our mailing list to receive executive insights through regular newsletters and exclusive event invitations.

Reference:
1. Smart Nation. (2022). Singpass Singapore's National Digital Identity (Factsheet).