In 2021, the Adnovum group increased revenues by 12% to over CH 92 million. In terms of employee numbers, the company also continued to grow, despite a tight situation on the skilled labor market and restrictions on recruitment during the pandemic. Adnovum employed more than 600 professionals working on software and security projects in its offices in Switzerland, Hungary, Portugal, Vietnam, and Singapore as of the end of 2021.
Expansion of offering for target markets
In 2021, Adnovum further expanded its activities in the public sector as well as in the banking, insurance, and transportation and logistics industries. For example, in April 2021, Adnovum was awarded the contract to implement the user data processing in the Federal Lawful Interception Core Component (FLICC). For VP Bank, Adnovum developed the ESG Rating Tool, which allows structuring measurement values for the environmental, social and governance performance of companies. This reflects Adnovum's position as a provider of ideas and innovative business solutions.
Practical experience with Self-Sovereign Identity
Another main focus of Adnovum in 2021 was on expanding its competencies and its partner network in the area of Self-Sovereign Identity (SSI). By combining advanced cryptography with blockchain technology, SSI enables decentralized management of digital identities. The aim is to give users maximum control of their data, while complying with high privacy requirements. SSI was chosen by the federal government as basic technology for the Swiss E-ID and for the state-run E-ID infrastructure to issue digital credentials (E-ID ecosystem).

In order to gain practical experience with the use of SSI, Adnovum – together with SwissSign, the Canton of Aargau and the cardossier association – launched an SSI initiative to build a representative SSI ecosystem based on specific use cases. The initiative has already provided many insights and is open for more players to enrich the ecosystem with use cases. In addition, Adnovum has been operating an SSI lab since March 2021, where it shows its clients the technical aspects of SSI and advises them on the implications.
Machine Learning – making information usable
Adnovum also expanded its consulting and implementation competencies in Machine Learning (ML) in 2021. Trained ML models generate added value by identifying patterns, which allows information to be extracted and made usable in a targeted manner. For example, Adnovum was involved in a project of Radio Télévision Suisse (RTS) which enables intelligent archiving of RTS' vast audio archive and thus makes data usable for new offerings.

Trained models also stand the test in client support, data analysis and monitoring. However, using Machine Learning applications in software ecosystems results in new risks that traditional cybersecurity practices do not necessarily protect against. Adnovum has therefore been offering security training since 2021. Participants learn how to identify vulnerabilities and effectively protect Machine Learning applications from threats.
New headquarters and branding
In 2021, Adnovum refreshed its brand identity and moved to new headquarters at Badenerstrasse 170 in Zurich. Adnovum CEO Thomas Zangerl: «The office concept was specifically designed to promote new forms of collaboration between employees, clients, and partners. Now we very much enjoy bringing the new spaces to life and developing them further together.»
Open to collaboration
In terms of business topics, the focus will be on strengthening industry-specific competencies and networks in 2022. In addition, the offering in SSI, Machine Learning and Security will be expanded further. Thomas Zangerl: «We will provide our clients with even more targeted support in using digitalization with tailored software solutions to implement new business models. To this end, we are currently also analyzing opportunities to strengthen our industry and thematic competencies through partnerships, shareholdings, or acquisitions.»
Adnovum
The Swiss software company Adnovum offers its clients comprehensive support in the fast and secure digitalization of business processes from consulting and conception to implementation and operation. Its core competencies also include identity and access management as well as security consulting. Our client focus is on companies that want to differentiate themselves through innovative digitalization solutions, among them banks, insurance companies, and the public sector.

Adnovum was founded in 1988. At our headquarters in Zurich and our offices in Bern, Lausanne, Budapest, Lisbon, Ho Chi Minh City and Singapore, we employ over 600 staff today.
Thomas Zangerl, CEO of Adnovum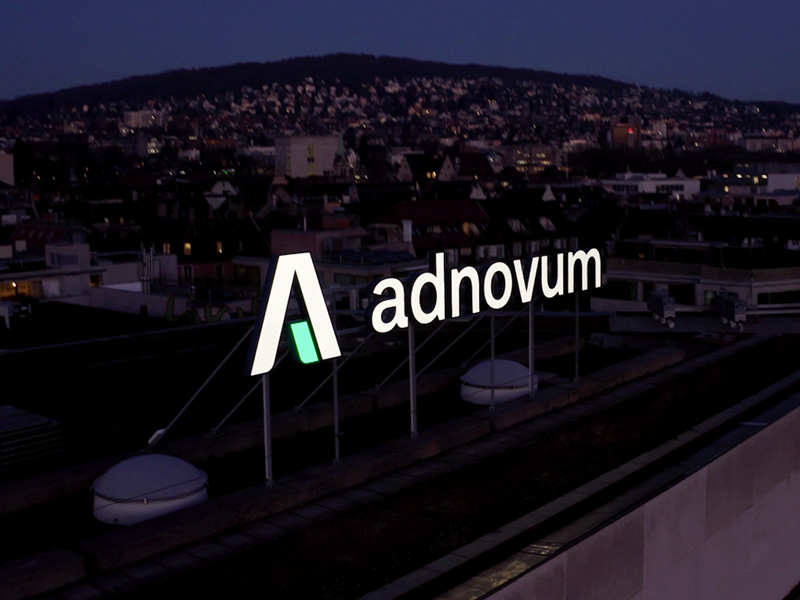 Adnovum Neon Sign
Media contact Adnovum
Adnovum AG
Manuel Ott, Verena Muedespacher
Badenerstrasse 170, 8004 Zurich
Phone +41 (0)44 272 61 11
media@adnovum.ch