Adnovum Vietnam is proud to announce that in January 2022 it was officially «Great Place to Work™»-certified. We received this certification based on the honest feedback from our employees about their work experience. It goes without saying that we will not rest on our laurels but continue to make our company culture and our employees' growth and wellbeing a top priority. Ivan Salvetti, Country Manager Adnovum Vietnam, provides some insights.
Why did you apply for a «Great Place to Work™» certification?
We believe that the workplace culture that we've built together at Adnovum is a great culture, and we want to share this with the labour market. We looked at a few providers to validate our culture. Given their 30 years of research experience, «Great Place to Work™» (GPTW) has the necessary expertise and quantifies the current state of work culture. Getting the GPTW certification is the first step toward understanding how our people experience the workplace and the culture that we have built together. We are convinced that as a company this will help us attract top talent, because the certification will have a positive effect on our clients, candidates, and vendors.
What does it mean for our organization to be «Great Place to Work»-certified™?
Adnovum's employer branding claim is «Sharp minds, good vibes». «Good vibes» shall express that our people have a good time at work, connect with their colleagues and socialize with each other even after work. All these values are reflected in the GPTW survey. We are proud to be «Great Place to Work™»-certified: It shows that our people recognize the company efforts. In addition, it motivates us to continue on this path because we believe this allows us to build a long-term relationship with our people. Being «Great Place to Work™»-certified improves our visibility in the community and again supports us in attracting new talents that are looking for a great work environment which will support them in growing their skills.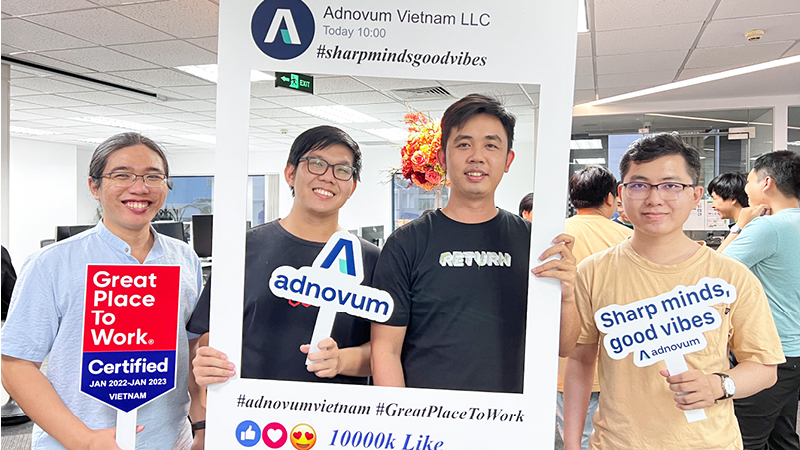 What makes our organisation a great place to work?
Being transparent and honest is one of the important values that characterise our company – from senior leaders to individuals. Living up to transparent values every day helps Adnovum create a healthy, happy, and satisfying work environment. To us, transparency is the key to building trust in business, be it internally with the teams, managers, or individuals, or externally with clients.
Our strong feedback culture is the second factor that makes us a great place to work. Because the principle of transparency allows us to create a radical candor feedback culture. At Adnovum, we are comfortable giving feedback in a way that both challenges people directly and shows we care about them personally. Living with a strong feedback culture helps us build strong relationships in the team and be more productive. In addition, it encourages us to do the best work of our careers.